Curiosity, cinephilia and challenging the commonplace
Electric Shadows invites you to its annual Electric Shadows Asian Film Festival. You're welcome to encounter both contemporary and historical films, selected to incite curiosity, challenge the commonplace, and celebrate cinephilia.

Be welcome, be curious.
#electric shadows #asianfilmfestival #esaff2022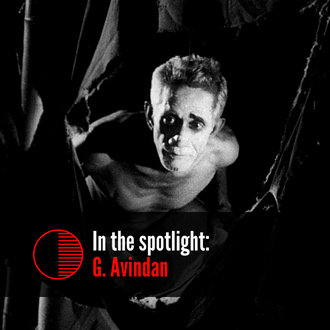 G. Aravindan's magic opens Electric Shadows
With two of his films, Kummatty and Thamp, the second edition of Electric Shadows Asian Film Festival zeroes in on the work of G. Avindan, one of the great innovators of Indian cinema.
"Kummatty like Thamp creates a playful choreography of gazes", says film historian Amrit Gangar in a conversation with G. Aravindan's favorite cinematographer Shaji N. Karun.
Announcing the full program
In eleven film programs over four days, Electric Shadows Asian Film Festival invites curious cinephiles to discover a diverse selection of wilful films from Asia.
We open with a restored classic: Kummatty by Govindan Aravindan, a key figure of Parallel Cinema in India. Together with Thamp, another Aravindan gem, it gives new insights in the legacy of Indian cinema.